Come join my new exchange?
I'm running a new exchange! I'd been talking about how there needed to be a Young Justice exchange with
biffelderberry
for a while and since season 3 was announced recently (so excited!!!!), I decided better sooner than later. So the Young Justice Fest is now officially a thing :D
Nominations start tomorrow (my birthday!), so if you're interested at all, please come check it out! And even if you're not, please feel free to crosspost and signal boost!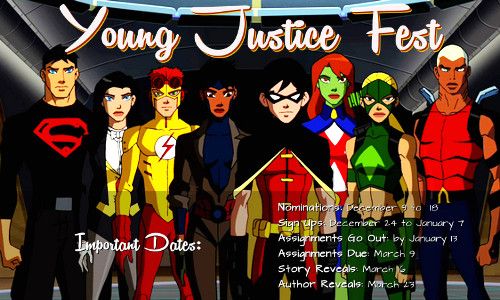 Join us at
yjfest!
Nominate: Dec. 9-18 | Signs Up: Dec. 24-Jan. 7 | Assignments Due: March 9
Young Justice Fest is a fic exchange for the Young Justice animated cartoon. Come celebrate the season 3 announcement by creating new works for our beloved fandom! Fic, art, and vids all welcome.